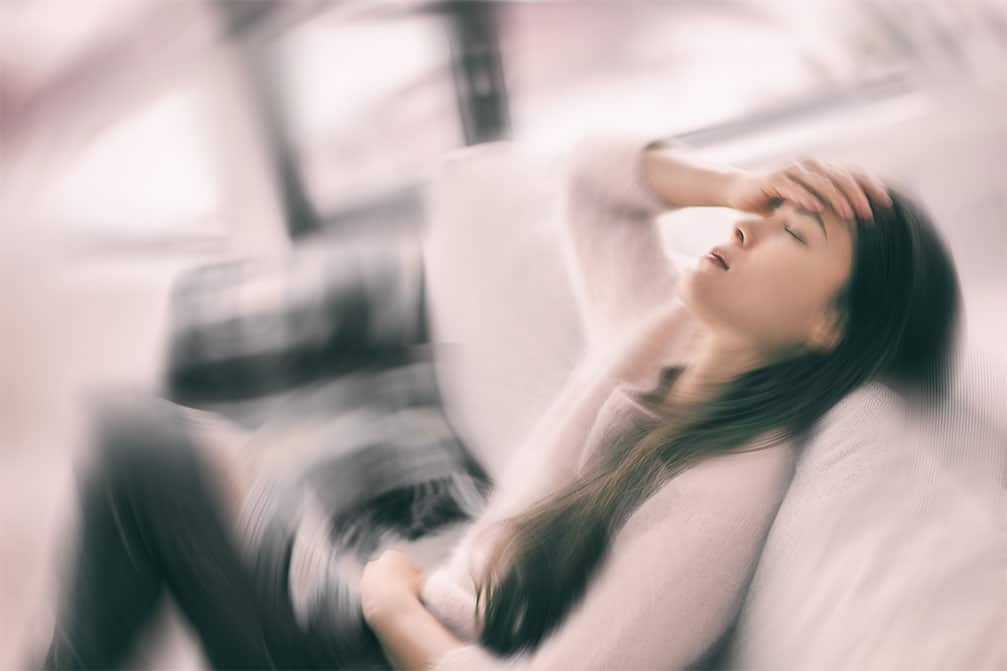 Science defines vertigo as a sudden internal or external spinning sensation, often triggered by moving the head too quickly. The words vertigo and dizziness often interchange to describe the feeling of spinning while a person sits or stands still. Episodes of dizziness and vertigo account for over 10 million visits to the doctor each year. These symptoms incapacitate the strongest and most able-bodied people. An equilibrium problem devastates the quality of life for anyone affected. The primary medical options to address vertigo consists of medication.

Conventional medical professionals typically recommend brain and nervous system imaging for vertigo sufferers to rule out possible abnormal tissue growth. Negative images usually prompt a round of drug therapy. Drugs used to treat dizziness and vertigo come with the price of unwanted nervous system side effects. The list of side effects associated with vertigo tends to be lengthy due to the chemistry involved in medications that impact the nervous system. People suffering from vertigo often endure these uncomfortable effects out of desperation to bring dizzy spells under control. A solution exists outside the realm of drugs and surgery.

Research published in 1998 and again in 2016 linked the alignment and function of the upper neck as a major factor in the presence or absence of dizziness. Nerves in and around the bones and tissue in the upper neck and skull branch directly to parts of the brain that coordinate balance and equilibrium. Studies showed that 62% of patients suffering from vertigo experienced misalignments and dysfunction in the three bones of the upper neck. 77% of those patients reported a significant alleviation of symptoms after experiencing a correction in spinal alignment.

Over 10 million doctor visits take place each year to seek relief for vertigo related symptoms. The research determined that more than three out of every four people suffering from dizziness received permanent healing and restoration from seeking pain-free Chiropractic intervention rather than consuming a cycle of medications. A non-invasive health care option focuses on health and healing rather than the consumption and toil of drugs and side effects.

Chiropractors do not seek to treat symptoms or conditions like vertigo. Spinal care focuses on removing interference from the brain and central nervous system. The direct and intimate relationship between the spine and central nervous system explains how and why vertigo patients experience relief from dizzy spells. Chiropractors spend years in advanced education to learn how to assess the health of the spine with precision and correct any areas of interference and stress on the nervous system.

Many factors contribute to dizziness and vertigo, but none more consistently than upper neck misalignments. Science coined the term "cervical vertigo" back in 1955 to describe the cause of many unwanted dizziness and vertigo symptoms. Cervical bones comprise the spinal bones in the neck. Chiropractors continue to bring healing and restoration to the same causes which existed over 60 years ago when professionals traced the causes of vertigo to issues in the neck. Chiropractic care offers a drug free alternative that pursues permanent healing in the body. 10 million annual visits to the doctor proves the need for a better alternative. Chiropractic works.
European Spine Journal: Official Publication of The European Spine Society, The European Spinal Deformity Society, and the European Section of the Cervical Spine Research Society 1998 "Vertigo in Patients with Cervical Spine Dysfunction." R Galm, M Rittmeister, E Schmitt
COMPLIMENTARY CONSULTATION
Are you wondering if Chiropractic care is right for you?  CORE Health Centers – Chiropractic and Wellness can help! Give us a call or text us at: 844-814-CORE(2673) or request an appointment below and schedule your Complimentary Consultation today! 
Request a Complimentary Consultation
Want more information before you schedule?  No Problem!  Check out all the convenient CORE Health Centers locations near you:
Lexington, KY (Hamburg)
Lexington, KY (Beaumont)