At CORE Health Centers, we utilize different techniques and methods for performing chiropractic adjustments. One of those techniques is the ArthroStim Method, which uses modern technology to gently but efficiently adjust the vertebrae in your spine, as well as other joints in your body. During a manual adjustment, a chiropractic uses their sense of touch to detect and correct subluxations. The ProAdjuster method uses advanced technology to do the same things, providing a gentle approach that is appropriate for everyone from infants to seniors.
What is the ArthroStim?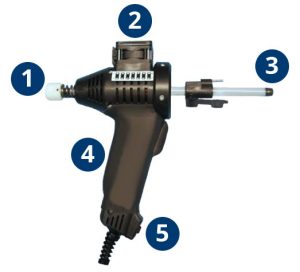 1. Variable Amplitude Knob
A practitioner can customize the amplitude of the thrust to best match the needs of the application.
2. Auto-Fan: Custom OPTION
The exclusive cooling system Auto-Fan Option increases the number of techniques, and applications, the instrument can be used with.
3. Spring Cushioned Pressure Responsive Stylus
The spring cushioned action ensures comfort for the patient, and the practitioner. The pressure sensitive stylus enables a practitioner to instantly tailor the input for each individual. The 'Fast On-Off Friction-Fit' design allows a busy practitioner to quickly exchange Adapters – without clips or locks.
4. Full Cushion Handle and Comfort Trigger
This combination provides comfort and protection for the practitioner's hand.
5. Speed Switch: CUSTOM OPTION
The Speed Switch Option enables a practitioner to instantly select various thrusting rates at the flip of a switch.